Residential Living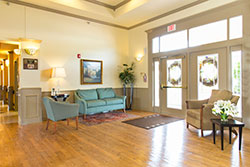 Russellville Nursing and Rehabilitation pairs the comforts of home with modern conveniences.  Residents enjoy professionally decorated rooms available for both short term and long term stays.  Our dining area is perfect for sharing a meal with visiting family and friends as are our other comfortable visiting areas. Our daily laundry and housekeeping services, mail delivery, and transportation ensure that all of our residents' needs are met.
Activities & Family Connections
Besides other daily services and amenities, we keep residents busy with daily planned activities led by our Certified Activity Directors.  These activities include social events and outings as well as pastoral services with spiritual care for all religions. We value family and encourage family participation in group activities, meals and celebrating family birthdays and special days. We provide a monthly event calendar and meal planner to make planning visits more convenient. Click here to view our calendar of events.
Listed below are a few of our planned activities: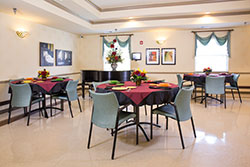 •    Church services weekly
•    Beautifully decorated at during Holiday seasons
•    Fun Fridays – for staff and residents
•    Students from local schools and churches play games with residents or hand out notes/cards
•    Visits from local churches
•    Christmas tours of the lights, when available
•    Santa visit during Christmas season
•    Easter Bunny visit
•    Local children Trick-or-Treat from our residents on Halloween
•    Antique car show sets up occasionally
•    Public Library staff visit and bring books and play Bingo with residents
•    Attend annual Senior Olympics
•    All residents get opportunity to vote at Electoral time