Health Services
Short-Term Rehabilitation
Russellville Nursing and Rehabilitation is a skilled nursing facility. Our team of nurses, therapists, and support staff work to develop a plan based on the specific needs of the patient and their family.  We don't believe in "one-size f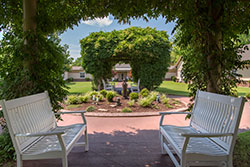 its all" care. Whether you are recovering from surgery, illness or an injury, people who receive rehabilitation therapy from Russellville Nursing and Rehabilitation see great improvement.
We offer physical and occupational therapeutic services as well as speech pathology.  Our team of nurses, therapists, and staff are passionate about utilizing the latest programs and techniques, so you can be sure that you or your loved one will receive top quality care. We utilize therapy modalities combined with a comprehensive therapy program for strengthening, balance training, pain reduction, wound healing, and increasing range of motion.  Our Speech pathologist incorporates swallowing, language, and cognitive procedures to meet the needs of our residents.
Patients may receive Physical Therapy, Occupational Therapy, and Speech Therapy services depending on the patient's needs and the physician's treatment order.
Long Term Care
In addition to rehabilitation services, we specialize in long-term care.  We pride ourselves in the comfortable, friendly environment we create in our long term care facilities, ensuring that your loved one feels right a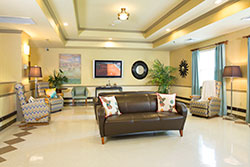 t home.
Our activity calendar is always full, ranging from large to smaller events.  Activities are also individualized based on the resident's wishes.
We encourage family visits, especially around meal times.  Our beautiful dining area is perfectly suited for residents and their families to catch up over a delicious meal.  To help our residents stay better connected with friends and loved ones and to ensure visitors stay connected to work and email, we also provide free wireless Internet.
Respite Care
Residents who come for respite care services enjoy all the amenities provided to our full-time residents, including daily housekeeping, laundry services, daily activities, and daily meals.  We offer 24 hour nursing care in a comfortable, healing environment.